Small Turbo Charger Dynamic Balancing Machines
Small Turbo Charger Dynamic Balancing Machines
---
Small Turbo Charger Dynamic Balancing Machines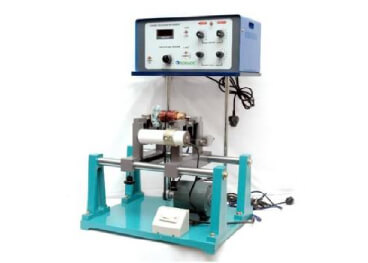 Turbocharger Balancing Machines offer two plane balancing. With two plane correction, Turbochargers can be corrected for stack up unbalance caused by the Compressor and Thrust spacers. Our Balancing Machines are provided with hard bearing which means they are permanently calibrated and rugged enough for on-machine correction.
1. Soft bearing
2. Simple to operate
3. No confusing controls
4. Fully solid state
5. True plane separation
6. Stroboscopic
7. This type of Machine is suitable for small Armatures, small Turbochargers, Mixer Grinder Armatures etc
8. Weight: 100 Grams to 5 KG
9. Self-Drives: This type of drive is used for balancing of Rotors in its own drives like Motor with an/complete radiator fan assembly etc.
10. These Machines have advantage, as the component is balanced at its operating speed and in its actual operating conditions.
11. Better balancing accuracy can be achieved with the type of drive provided, as the Rotor run smoothly in its assembled condition. Sometimes, Customers also demand for balancing the components in actual operating conditions.
11. Our Machines are widely accepted by various Customers from the sector.
| MODEL | HBS 5 |
| --- | --- |
| TYPE | SOFT BEARING, BELT DRIVE |
| DISPLAY | DIGITAL / ANALOG |
| MAX DIA | 120 MM |
| MAX DISTANCE | 3OO MM |
| SHAFT DIA | 5 - 15 |
| BAL SPEED | 1000 - 1200 |
| SENSITIVITY | 0.2 - 2 |
| MAIN SUPPLY | 230V, 50HZ, SINGLE PHASE |